First series of pictures:
The Jim Crow Laws
The Jim Crow Laws were created in the 19th century.
'Jim Crow' is a racist nickname to refer to a black person.
The Jim Crow laws started racial segregation. It was forbidden for black people:
– to eat in restaurants where white people ate.
– to wait in the same rooms in train or bus stations.
– to wash their clothes in the same laundries.
– to sit at the front of buses.
– to sit next to a white person in a movie theatre (they had to sit upstairs in the balcony).
The Jim Crow Laws were enforced until 1965.
Rosa Parks:
a) Describe the pictures:
A very famous photograph:
Kevin Siers's cartoon: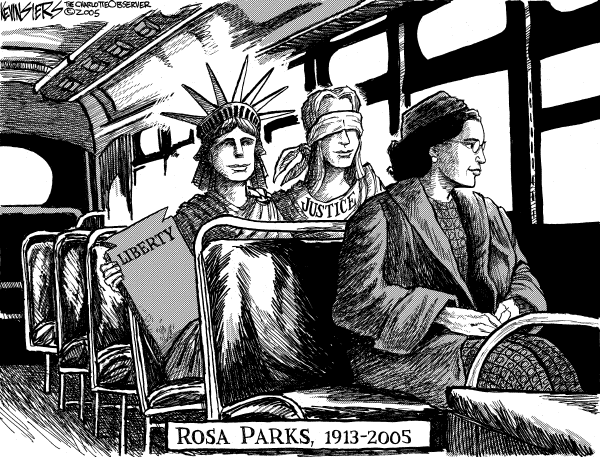 b) Write a short biography
Write a short paragraph about Rosa Parks (5 to 10 lines) in your own words! You can use any website you want with information about her.
c) Listen to Rosa Parks… a BBC report (compréhension orale)
Entraînez-vous à réécouter l'interview de Rosa Parks en cliquant ici. La page contient également le script du dialogue que vous n'aviez pas lors de la compréhension orale en cours!
The Montgomery bus boycott
a) View Jo Ann Robinson's original leaflet to protest against segregation (cliquez ici!)
b) Write your own leaflet
a)    Title (it should be the last thing you write) 1 line
b)    1st paragraph:  describe the situation 3 to 5 lines
– Use the passive form (at least 3).
– Explain why the situation is shocking.
c)    2nd paragraph: take action! 3 to 5 lines
– Choose violent or peaceful action.
– Use imperatives.
d)    Conclusion 1 line
Barème /10
–    Respect des 4 parties et de la longueur demandée: 1
–    Correction grammaticale globale: 1
–    Utilisation de 3 passifs: 3
–    Réinvestissement du vocabulaire de la révolte/ de la colère:  1
–    Choix cohérent d'une action à entreprendre : 1
–    Utilisation de l'impératif : 2
–    Conclusion logique : 1
Norman Rockwell's point of view
a) Find information about Norman Rockwell
Visit the Norman Rockwell Stockbridge Museum! (cliquez ici)
b) The problem we all live with…
Describe the picture and find the symbols in it.
Watch more drawings/sketches, paintings and photos here.