Tuesday, February 2nd, 2010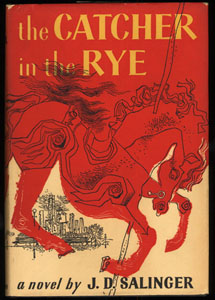 Like all of us who read "The Catcher in the Rye", I was saddened by the death of J.D. Salinger. That's why I decided to tell you a few words about it today in class and I thought a short article would be useful.
Although J.D. Salinger has written many short stories, The Catcher in the Rye is Salinger's only novel and his most notable work, earning him great fame and admiration.
At the beginning of his story, Holden Caulfield  is a student at Pencey Prep School, irresponsible and immature.  He has been expelled for failing four out of his five classes. Holden packs up and leaves the school in the middle of the night after an altercation with his roommate. He takes a train to New York, but does not want to return to his family and instead checks into the dilapidated Edmont Hotel. There, he spends an evening dancing with three tourist girls and has a clumsy encounter with a prostitute; he refuses to do anything with her and, after he tells her he just wants to talk, she becomes annoyed with him and leaves. However, he still pays her for her time. Holden spends a total of three days in the city, characterized largely by drunkenness and loneliness. At one point he ends up at a museum, where he contrasts his life with the statues of Eskimos on display. For as long as he can remember, the statues have been unchanging. These concerns may have stemmed largely from the death of his brother, Allie. Eventually, he sneaks into his parents' apartment while they are away, to visit his younger sister, Phoebe, who is nearly the only person with whom he seems to be able to communicate. After leaving his parents' apartment, Holden then drops by to see his old English teacher, Mr. Antolini, in the middle of the night, and is offered advice on life and a place to sleep. Mr. Antolini tells Holden that it is the stronger man who lives humbly, rather than dies nobly, for a cause. This rebukes Holden's ideas of becoming a "catcher in the rye," a godlike figure who symbolically saves children from "falling off a crazy cliff" and being exposed to the evils of adulthood. Holden intends to move out west; he relays these plans to his sister, who decides she wants to go with him. He refuses to take her, and when she becomes upset with him, he tells her that he will no longer go.
The Catcher in the Rye is written in first person from the point of view of its protagonist, Holden Caufield, a writing style known as stream of consciousness), which seems to follow the protagonist's exact thought process.
The Catcher in the Rye has been listed as one of the best novels of the 20th century.
These are the only two pictures we have of Salinger. Salinger became reclusive after the publication of The Catcher in The Rye and  gradually withdrew from public view. Some people think that he was unable to deal with the traumatic nature of his war service.