The Catcher in the Rye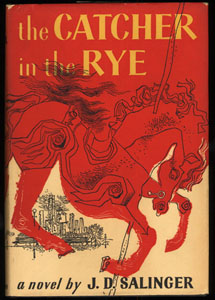 Like all of us who read "The Catcher in the Rye", I was saddened by the death of J.D. Salinger. That's why I decided to tell you a few words about it today in class and I thought a short article would be useful.
Although J.D. Salinger has written many short stories, The Catcher in the Rye is Salinger's only novel and his most notable work, earning him great fame and admiration.
At the beginning of his story, Holden Caulfield  is a student at Pencey Prep School, irresponsible and immature.  He has been expelled for failing four out of his five classes. Holden packs up and leaves the school in the middle of the night after an altercation with his roommate. He takes a train to New York, but does not want to return to his family and instead checks into the dilapidated Edmont Hotel. There, he spends an evening dancing with three tourist girls and has a clumsy encounter with a prostitute; he refuses to do anything with her and, after he tells her he just wants to talk, she becomes annoyed with him and leaves. However, he still pays her for her time. Holden spends a total of three days in the city, characterized largely by drunkenness and loneliness. At one point he ends up at a museum, where he contrasts his life with the statues of Eskimos on display. For as long as he can remember, the statues have been unchanging. These concerns may have stemmed largely from the death of his brother, Allie. Eventually, he sneaks into his parents' apartment while they are away, to visit his younger sister, Phoebe, who is nearly the only person with whom he seems to be able to communicate. After leaving his parents' apartment, Holden then drops by to see his old English teacher, Mr. Antolini, in the middle of the night, and is offered advice on life and a place to sleep. Mr. Antolini tells Holden that it is the stronger man who lives humbly, rather than dies nobly, for a cause. This rebukes Holden's ideas of becoming a "catcher in the rye," a godlike figure who symbolically saves children from "falling off a crazy cliff" and being exposed to the evils of adulthood. Holden intends to move out west; he relays these plans to his sister, who decides she wants to go with him. He refuses to take her, and when she becomes upset with him, he tells her that he will no longer go.
The Catcher in the Rye is written in first person from the point of view of its protagonist, Holden Caufield, a writing style known as stream of consciousness), which seems to follow the protagonist's exact thought process.
The Catcher in the Rye has been listed as one of the best novels of the 20th century.
These are the only two pictures we have of Salinger. Salinger became reclusive after the publication of The Catcher in The Rye and  gradually withdrew from public view. Some people think that he was unable to deal with the traumatic nature of his war service.
Of course "Catcher" is about a troubled teen trying to work his way through adolescence in a world peopled by phonies. And, yes, the broader context of Holden Caulfield's story – the isolated, elite world of private schools in Cold War America – is important.
But all of that is landscape, and none of it helps us to understand the story's central question: Why is he so messed up?
Holden is meaningful today because, even though he is white and privileged, like too many children he is hurting and invisible. His absent parents send him off to boarding school, his older brother is away pursuing his career, his teachers sort of try to help the poor guy, and his peers are too screwed up themselves to save their pal. Only his sister Phoebe understands Holden and, to borrow the cliche of my students, is "there for him." Holden tells her of his plan to run away, and, unlike everyone else, who advise him to consider the consequences of his actions (so teacher-like), Phoebe's response is to pack her suitcase and go with him.
So here's one of the messages suggested by his book : We all need to be Phoebe and look out for those around us, our friends and family and especially all the children everywhere. We all need to be that "catcher in the rye."
Read more: http://www.sfgate.com/cgi-bin/article.cgi?f=/c/a/2010/02/01/ED021BQTAG.DTL#ixzz0ePhAPmza
Quotations from The Catcher in The Rye :
If you really want to hear about it, the first thing you'll probably want to know is where I was born and what my lousy childhood was like, and how my parents were occupied and all before they had me, and all that David Copperfield kind of crap, but I don't feel like going into it, if you want to know the truth.
The Catcher in the Rye
Holden Caulfield in Chapter 1, opening words of book
I'm the most terrific liar you ever saw in your life. It's awful. If I'm on my way to the store to buy a magazine, even, and somebody asks me where I'm going, I'm liable to say I'm going to the opera. It's terrible.
The Catcher in the Rye
Holden Caulfield in Chapter 3
What really knocks me out is a book, when you're all done reading it, you wished the author that wrote it was a terrific friend of yours and you could call him up on the phone whenever you felt like it.
The Catcher in the Rye
Holden Caulfield in Chapter 3
What I was really hanging around for, I was trying to feel some kind of a good-by. I mean I've left schools and places I didn't even know I was leaving them. I hate that. I don't care if it's a sad good-by or a bad good-by, but when I leave a place I like to know I'm leaving it. If you don't, you feel even worse.
The Catcher in the Rye
Holden Caulfield in Chapter 1
Pencey was full of crooks. Quite a few guys came from these wealthy families, but it was full of crooks anyway. The more expensive a school is, the more crooks it has – I'm not kidding.
The Catcher in the Rye
Holden Caulfield in Chapter 1
It was that kind of a crazy afternoon, terrifically cold, and no sun out or anything, and you felt like you were disappearing every time you crossed a road.
The Catcher in the Rye
Holden Caulfield in Chapter 1
People always think something's all true.
The Catcher in the Rye
Holden Caulfield in Chapter 2
People never notice anything.
The Catcher in the Rye
Holden Caulfield in Chapter 2
Life is a game, boy. Life is a game that one plays according to the rules.
The Catcher in the Rye
Mr. Spencer in Chapter 2
People always clap for the wrong things.
The Catcher in the Rye
Holden Caulfield in Chapter 12
I'm always saying "Glad to've met you" to somebody I'm not at all glad I met. If you want to stay alive, you have to say that stuff, though.
The Catcher in the Rye
Holden Caulfield in Chapter 12
Anyway, I'm sort of glad they've got the atomic bomb invented. If there's ever another war, I'm going to sit right the hell on top of it. I'll volunteer for it, I swear to God I will.
The Catcher in the Rye
Holden Caulfield in Chapter 18
Boy, when you're dead, they really fix you up. I hope to hell when I do die somebody has sense enough to just dump me in the river or something. Anything except sticking me in a goddam cemetery. People coming and putting a bunch of flowers on your stomach on Sunday, and all that crap. Who wants flowers when you're dead? Nobody.
The Catcher in the Rye
Holden Caulfield in Chapter 20
Anyway, I keep picturing all these little kids playing some game in this big field of rye and all. Thousands of little kids, and nobody's around – nobody big, I mean – except me. And I'm standing on the edge of some crazy cliff. What I have to do, I have to catch everybody if they start to go over the cliff – I mean if they're running and they don't look where they're going I have to come out from somewhere and catch them. That's all I do all day. I'd just be the catcher in the rye and all. I know it's crazy, but that's the only thing I'd really like to be.
The Catcher in the Rye
Holden Caulfield in Chapter 22
That's the nice thing about carrousels, they always play the same songs.
The Catcher in the Rye
Holden Caulfield in Chapter 25
Don't ever tell anybody anything. If you do, you start missing everybody.
The Catcher in the Rye
Holden Caulfield in Chapter 26, closing words of book
http://credit-n.ru/zaymyi-next.html http://credit-n.ru/zaymyi-next.html http://credit-n.ru/zaymyi-next.html