How Prince Harry and Meghan Markle's first royal engagement compares to William and Kate's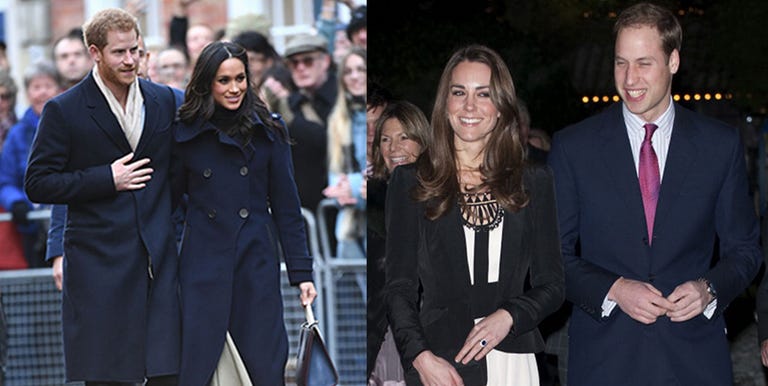 Just a few days after announcing their engagement, Prince Harry and Meghan Markle have made their first official royal engagement as a couple.
Harry and Markle  carried out two separate engagements. The first was a visit to a charity fair hosted by the Terrence Higgins Trust to mark World Aids Day – a cause the Prince is famously passionate amount. The next is to Nottingham Academy where they will meet teachers and staff from Full Effect, a programme which aims to support at risk children and young people.
This step is the first of many for Meghan as she prepares to join the family and focus on her charity and humanitarian work after moving away from her acting career.
Prince Harry and Meghan Markle have given their first interview since their engagement was announced. Here are seven things we learned about their relationship.
The couple went on holiday together after two dates
Just weeks after they met, Prince Harry convinced Ms Markle to join him on a trip to Botswana.
"We camped out with each other under the stars," the prince said.
"She came and joined me for five days out there, which was absolutely fantastic."
He said being away allowed them to get to know each other without the usual pressures of royal life.
Harry designed the ring
They knew nothing about each other when they met
Ms Markle credited her American background – and lack of exposure to British tabloids – with allowing her to get to know Prince Harry naturally and organically.
For his part, the prince had never seen Suits, the American legal drama in which Ms Markle stars, and had never even heard of her before they met.
They were both pleasantly surprised by their blind date.
"I was beautifully surprised when I walked into that room and saw her," he said.
"I was like, 'I'm really going to have to up my game here'."
Ms Markle is leaving her acting career
The pair also announced that Ms Markle will not continue acting.
"I don't see it as giving anything up. I see it as a change. It's a new chapter…" she said.
"Now it's time to work as a team with you," she said as she turned to Prince Harry.
They talked about forging a new role for themselves as a couple, focusing on the humanitarian causes over which they first bonded.
The prince said Ms Markle would easily take to the role of being a member of the Royal Family and said they were a "fantastic team".
Prince Harry proposed over a roast chicken
he couple described a quiet night at home, cooking a roast chicken together, when the prince surprised Ms Markle by getting down on one knee.
Ms Markle described the moment.
It was "just a cosy night… trying to roast a chicken and it just – just an amazing surprise.
"It was so sweet and natural and very romantic," she said.
And it was an instant "yes" from Ms Markle.
"I could barely let you finish proposing, I said – 'can I say yes now'?"
The corgis like Meghan
Ms Markle confirmed that one of her two dogs has followed her to London.
And Prince Harry revealed the Queen's corgis took to her "straight away" when she met the monarch.
They are looking forward to having children
Prince Harry's brother and sister-in-law, the Duke and Duchess of Cambridge, are expecting their third child next year.
But Ms Markle laughed when Prince Harry's answer to a question about their plans for having children was "not currently".
The prince added: "One step at a time and hopefully we'll start a family in the near future." http://credit-n.ru/zaymyi-next.html http://credit-n.ru/zaymyi-next.html http://credit-n.ru/zaymyi-next.html