Thursday, May 31st, 2018
The date
Harry and Meghan's wedding will take place on Saturday 19 May 2018 – which breaks royal protocol due to being at the weekend. While there's no official rule, royal weddings have always traditionally taken place on a weekday (Prince William and Kate Middleton married on Friday 29 April 2011; Princess Diana and Prince Charles on Wednesday 29 July 1981; Queen Elizabeth II and Prince Philip on Thursday 20 November 1947). Having the wedding in May will allow the Duchess of Cambridge some time to recover from the birth of her third child, due in April.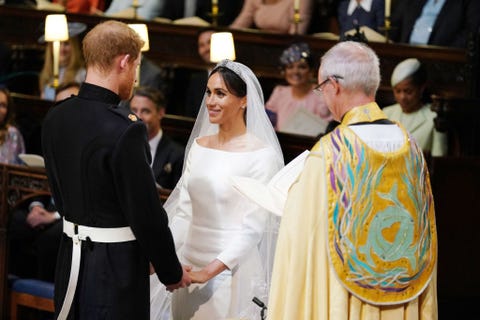 The venue
The couple will say their vows at the picturesque St George's Chapel in Windsor Castle. The chapel reportedly has space for around 800 guests, in contrast to the 2,000-person capacity of Westminster Abbey, where William and Kate got married.
The cost
While it's not known exactly what the royal wedding budget is (and it's unlikely to ever be disclosed), Kensington Palace confirmed that the event will be paid for by the royal family – at no cost to the taxpayer.
The royal titles
After the wedding, Prince Harry and Meghan Markle will become known as their Royal Highnesses the Duke and Duchess of Sussex.
The Queen has also made her grandson Earl of Dumbarton and Baron Kilkeel.
Buckingham Palace said in a statement: "The Queen has today been pleased to confer a Dukedom on Prince Henry of Wales. His titles will be Duke of Sussex, Earl of Dumbarton and Baron Kilkeel.
"Prince Harry thus becomes His Royal Highness The Duke of Sussex, and Ms. Meghan Markle on marriage will become Her Royal Highness The Duchess of Sussex."
The invitations
Kensington Palace confirmed that the invites were issued mid-March, and created by Barnard & Westwood, a company which has held a Royal Warrant for Printing & Bookbinding by Appointment to Her Majesty The Queen since 1985.
The invitations were die-stamped in gold and then burnished. The text on the invitation is also die-stamped, while edges of the invitation were bevelled, then gilded. The invitation features The Three Feather Badge of The Prince of Wales, and the names of invited guests were added later by a calligraphy printer.
Around 600 people have been invited to the service at St George's Chapel and the lunchtime reception at St George's Hall, which is being hosted by the Queen. The palace also confirmed that 200 guests will also be invited to the private reception at Frogmore House.
The engagement photos
The couple released two photos to celebrate their engagement. The images, which were taken by Harper's Bazaar regular photographer Alexi Lubomirski, feature a close-up shot, as well as another where the two are sat down. Both were taken at Frogmore House in Windsor.
They also released a third, more candid image from the day of the shoot.
The dress
It's widely expected that Markle will turn to a British designer for the all-important gown – and most fashion experts now believe that she has chosen Ralph & Russo, the only British couture label, to make her dress.
According to a royal insider, the duchess-to-be has opted for a hand-stitched, beaded gown which boasts a serious price tag of £100,000.
The source revealed: "It sounds a lot, but this is the wedding of the year and hundreds of hours of manpower have gone into making it, almost all by hand."
Other sources have suggested that Markle will be wearing two dresses on her big day, changing for her second reception in the evening into something more modern. If she does this, she will be following in the footsteps of the Duchess of Cambridge wore two Sarah Burton for Alexander McQueen dresses for her wedding. Markle could, however, opt to choose a different designer for the evening. Brands including Roland Mouret, Stella McCartney, Burberry and Erdem are just some of the names being suggested as contenders.
Markle previously talked about her "dream wedding dress" in a 2016 interview with Glamour, which took place following the wedding of her on-screen character Rachel Zane in Suits.
"I have the luxury of wearing beautiful pieces of clothing every day for work, so my personal style — wedding or not — is very pared down and relaxed," she said. "Classic and simple is the name of the game, perhaps with a modern twist. I personally prefer wedding dresses that are whimsical or subtly romantic. Delphine Manivet and Christos Costarellos are faves of mine for their uniqueness and beauty. And I will always be a fan of Elie Saab. J. Mendel is spectacular as well, especially for more structural designs."
She also revealed that her favourite celebrity wedding dress was the one worn by Carolyn Bessette Kennedy – a simple silk column dress by Narciso Rodriguez.
The wedding party
After playing best man to brother William at his 2011 wedding to Kate Middleton, Harry is repaying the favour and has asked William to be his best man. The news was announced via the palace's Twitter account, which shared a number of sweet photos of the duo.
William's children, Prince George and Princess Charlotte, will also have roles within the wedding party – as they did at Pippa Middleton's 2017 wedding – as a page boy and bridesmaid, alongside eight other children.
After Thomas Markle was forced to pull out of attending the wedding due to health issues (he reportedly suffered a heart attack and had to undergo surgery), Kensington Palace confirmed that Prince Charles will be walking the bride down the aisle. She will travel to the church by car with her mother, Doria Ragland.
The Duchess of Cambridge will make a low-key appearance at the nuptials, having recently welcomed her third child, Prince Louis, and will also not want to risk upstaging the bride.
Markle will not have a maid of honour or an adult bridal party, but will instead have a group of close girlfriends "assisting" her on the day.
A spokesperson for the palace revealed: "She has a very close-knit circle of friends and she didn't want to choose one over another."
They continued,"All have been actively involved in helping her prepare for the day and will be there in the days beforehand. She's very happy to have their support."
The coverage
The wedding will be televised on a number of channels in the UK. A pool camera will be allowed inside St George's Chapel, allowing international media outlets to plug into the source the royal family provides and broadcast the same footage.
"The couple of course wants the day to be a special, celebratory moment for their friends and family," said a royal spokesperson. "They also want the day to be shaped so as to allow members of the public to feel part of the celebrations too and are currently working through ideas for how this might be achieved."
There have been two other televised royal weddings in history, that of William and Kate in 2011 (to which an estimated 23 million people tuned in) and Charles and Diana in 1981.
Find out more about exactly how you can watch the royal wedding here.
The cake
Claire Ptak, owner of London-based bakery Violet Cakes has been chosen to create the royal wedding cake.
"Prince Harry and Ms Markle have asked Claire to create a lemon elderflower cake that will incorporate the bright flavours of spring," confirmed Kensington Palace. "It will be covered in buttercream and decorated with fresh flowers.
"Claire Ptak, who was raised in California, focuses on using seasonal and organic ingredients in her cake. Ms Markle previously interviewed Chef Ptak for her former lifestyle website The Tig," they continued, adding that the couple are "looking forward to sharing the cake with guests at their wedding".
The flowers
Meghan and Harry have selected London-based florist Philippa Craddock to design their wedding flowers, which will follow a natural wildflower theme. Her team will partner with a team from St George's Chapel and Buckingham Palace to locally source white garden roses, foxgloves and branches of beech from the gardens of the Crown Estate and Windsor Great Park. Craddock will also incorporate peonies, which are Markle's favourite flower, according to her now-deleted Instagram account.
"The Royal Parks will also supply pollinator-friendly plants from their wildflower meadows," said a statement released by Kensington Palace. "These plants provide a great habitat for bees and help to sustain healthy and biodiverse ecosystems."
"Where possible, Philippa will use flowers and plants that are in season and blooming naturally in May," they added.
The music
Harry and Meghan have announced the music plans for the ceremony, which includes a number of group and solo performances, including from a gospel choir and 19-year-old cellist.
"Both Prince Harry and Ms Markle have taken a great deal of interest and care in choosing the music for their service, which will include a number of well-known hymns and choral works," the Palace tweeted.
The couple have chosen to appoint Karen Gibson and the Kingdom Choir, which is made up of a group of British musicians that have been performing together for over 20 years. Meanwhile, 19-year-old Sheku Kanneh-Mason will be performing. The cellist was the winner of the 2016 BBC Young Musician competition. The Choir of St. George's Chapel will of course also be taking part.
Read more about the music at Harry and Meghan's royal wedding below.
The carriage
The couple have selected the Ascot Landau carriage for their anticipated procession through Windsor Town. The royal newlyweds will travel in a one horse-drawn carriage in the Carriage Procession from St George's Chapel, taking the couple through Windsor Town and returning to Windsor Castle along the Long Walk, Kensington Palace has confirmed. William and Kate used the Imperial State Landau on their wedding day, as it usually remains stationed in London. Their wedding was also a state wedding, and the Imperial State Landau is often used by the Queen to meet Foreign Heads of State when they arrive on State Visits to Britain.
The honeymoon
The notoriously private couple (who managed to keep their relationship a secret for the first six months) will likely seek somewhere away from prying eyes for their post-wedding getaway. Botswana would be an obvious choice, as a country that holds a special significance for the pair; they holidayed there in the early stages of their relationship and Harry sourced a diamond from the country for Markle's engagement ring. However, it's more recently been strongly rumoured that the couple have chosen Namibia as their honeymoon destination.
However, what we do know is that the couple will not be going away on honeymoon straight after their wedding, but will instead be heading off a little later. Kensington Palace confirmed that the newly married couple would be undertaking royal duties the week after their wedding.
"The couple will be going on honeymoon, but not straightaway," said Kensington Palace spokesman Jason Knauf at a press conference. "They will have their first engagement as a married couple in the week after the wedding."
Reports also suggest that the newlyweds may choose a different African country to honeymoon in – with the neighbouring Namibia one of the rumoured destinations. As the least densely populated country in the world it would certainly provide the privacy they'd be craving after such a public wedding.
The royal titles
Buckingham Palace said in a statement: "The Queen has today been pleased to confer a Dukedom on Prince Henry of Wales. His titles will be Duke of Sussex, Earl of Dumbarton and Baron Kilkeel.
"Prince Harry thus becomes His Royal Highness The Duke of Sussex, and Ms. Meghan Markle on marriage will become Her Royal Highness The Duchess of Sussex."