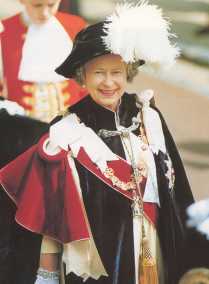 Queen Elizabeth II became Queen of the United Kingdom and Head of the Commonwealth on February 6, 1952. As of today she has reigned for 60 years, 3 months and 29 days , and she is celebrating the Diamond (60th) Jubilee of her reign in 2012, including an official Jubilee Weekend on 2nd-5th June. She is head of the British Royal Family, has 4 children, 8 grandchildren and 2 great-grandchilden, and is 86 years, 1 month and 14 days old.
She is the 32nd great-granddaughter of King Alfred the Great who was the first effective King of England 871-899. On 21st December 2007 she became the oldest reigning British monarch having outlived her great-great-grandmother Queen Victoria who died 22nd January 1901 aged 81 years, 7 months and 29 days.
On 12th May 2011 Queen Elizabeth II became the 2nd longest reigning monarch in over 1,200 years of British History. She will have to reign until 10th Sept 2015 when she will be 89 years old to reign longer than her great-great-grandmother Queen Victoria who reigned for 63 years and 216 days from 1837-1901. See British Kings & Queens by Length of Reign.
In 2012 Queen Elizabeth II celebrates the Diamond (60th) Jubilee of her reign. Queens Diamond Jubilee Celebrations.
Her eldest son Prince Charles who was 63 years old on 14th November 2011 is currently the longest waiting and 2nd oldest ever heir apparent, and would by that time be the oldest heir apparent at 66 years old. See British Kings & Queens by Age of Ascent.
The Queen's husband Prince Philip, Duke of Edinburgh, is 90 years, 11 months and 25 days old, and celebrates his 91st birthday on 10th June 2012. He is the longest ever serving Royal Consort and oldest serving spouse of a reigning British monarch.
On 29th April 2011 the Queen's grandson Prince William, who is 2nd in line to the throne, married Catherine (Kate) Middleton in Westminster Abbey. They are now the Duke and Duchess of Cambridge.
Elizabeth II is Queen of the United Kingdom of Great Britain and Northern Ireland, and Head of the Commonwealth of Nations. Great Britain was formed 305 years ago by the Act of Union between England and Scotland on 1st April 1707. More about Great Britain
As well as the United Kingdom, she is Queen of Canada, Australia, New Zealand, Jamaica, Barbados, the Bahamas, Grenada, Papua New Guinea, the Solomon Islands, Tuvalu, Saint Lucia, Saint Vincent and the Grenadines, Antigua and Barbuda, Belize, and Saint Kitts and Nevis, where she is represented by Governors-General. The sixteen countries of which she is Queen are known as Commonwealth Realms, and their combined population is 134 million.
She is Head of the Commonwealth of Nations comprising 54 member states in North America, South America, Europe, Africa, Asia and Oceania. The aims of the Commonwealth include the promotion of democracy, human rights, good governance, the rule of law, individual liberty, egalitarianism, free trade, multilateralism, and world peace. The 2.1 billion people in the member states account for almost a third of the current world population.
Her reign of over more than half a century has seen 12 Prime Ministers of the United Kingdom, and numerous Prime Ministers in the Commonwealth Realms of which she is (or was) also Head of State; between them she has had a total of 140 Prime Ministers during her reign. There have been 12 US Presidents during her reign.