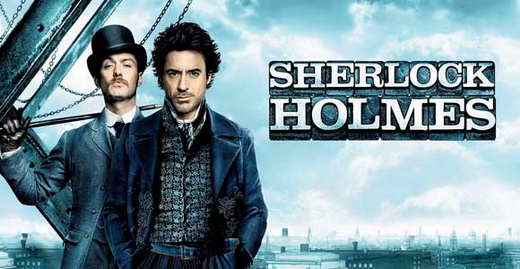 The movie Sherlock Holmes was directed by Guy Ritchie in 2009. It's a thriller adapted on the comic book that doesn't have been published by Lionel Wigram, but the story respect the original characters from Sir Arthur Conan Dayle. But first, let's remind us the charasteristic of the two main characters :
Sherlock Holmes is a fictional character created by Sir Arthur Conan Dayle and who appeared for the first time in the detective novel A Study in Scarlet in 1887. He's a privet detective who's possessing an amazing memory that's very helpful for his investigations, but he's got a little knowledge. In the movie, this wonderful bohemian scientist and eccentric detective is played by the one and only Robert Downey Jr., who has heard of the project before he got the role. Althought Ritchie wanted a young men to play Holmes, but he took a chance on casting him in the role. Robert said on the BBC : » When you read the description of the guy, it could be a description of me « , and on Premiere : » It's an honour to play a legendary character such as Sherlock Holmes « .
Dr Watson is a fictional character also created by Sir Arthur Conan Dayle. He's the friend of Sherlock Holmes who's following him in all his investigations, and he's also the narrator of all the stories. He's a surgeon and a veteran from de Second Afghan War. In the movie, the great Jude Law interpret the role of Dr Watson, as a British gentleman, a former soldier, a doctor, a womanizer and a gambler. Law was cast because he had a positive meeting with Robert Downey Jr, and was really interested by the Holmes and Watson's friendship.
The movie began on the end of a Holmes's investigation concerning the dark wizard Lord Blackwood, who has already killed few womens. Holmes arrive in time and stop Blackwood's maleficient ritual in a church. After this arrest, Blackwood go in cell, Watson is about to get married his future wife and Holmes is getting bored to death. Moment later, Blackwood wants to see Holmes before his death, and he prevent him of a dirty future, like his resurrection and more death. And the worst happened : although Watson was the one who check the death of Lord Blackwood, his body was declared lost. Holmes took it like a oppotunity to finally move out of his desk.
In this movie, we can see a very sarcastic Sherlock but very clever, skilled. He's an impressive observant. There's also the character of Watson who is really endearing, as the same for Holmes. And i agree with Jude Law that Holmes and Watson »s frienship is really interesting. We can see an other relation between them that's really funny, and could look like a brotherhood. They're here for each other, and to conclude the investigations, Holmes needs the expertise of Dr Watson.
And what is really interesting in this movie is the modern British world where we can discover a new Sherlock Holmes. Guy Ritchie read the stories of Sherlock Holmes, and he wanted to represent the modernity that is really present in the novels and the short story. He describe his work as a » very contemporary film as far as the tone and texture « . The movie received a lot of positive reviews, and was nominated for a lots of ceremony, as the same for the actors.
A sequel came out in 2011, directed by thr same director, Guy Ritchie, adn the same actors. The movie is entitled Sherlock Holmes, A Game of Shadows
Here's the trailer of the first movie, Sherlock Holmes, from 2009.