Hello hello.
Breaking Bad is a series created by Vince Gilligan and broadcasted for the first time on January 20th, 2008. It counts five seasons, that is to say sixty-five episodes.
I started this series one year ago but recently I've decided to start it again so here I am , writing an article about it. I have to say that it is the best show I've ever seen so far!!
First, let me introduce you the plot. It unfolds in Albuquerque in New Mexico. The show focuses on Walter's story : a chemistry teacher who figures out that he is affected by cancer, which besides is in terminal phase. Wanting to be sure that his wife and his two children will have a profitable future (without him as he only has two years to live), he becomes a drug dealer. With Jesse Pinkman's help, a former student, he starts cooking and selling crystal meth. Quickly, both realize that making a name in the drug world is not so easy although their product is almost perfect. They will have to face many competitors and difficulties, at their own risks.
All along the show, we become attached to the characters without being aware of it. We see the characters' evolution, and we feel connected to them. I don't know how to explain this but we become absorbed by the story at the point that we try ourselves to work this out. The most important thing is that we don't expect what's going to happen. And to conclude about the story, I will say that the end will leave you open-mouthed, with the feeling that you want even more episodes. 
As I am not the only one to think that Breaking Bad is one of the best series, if it is not the best! It won many many awards such as fifteen Emmy Awards, twelve Primetime Awards and so on… Also, in many well-known websites we can see several times that the show is in the first three rows in the classification of the best series.
If you've never heard about Breaki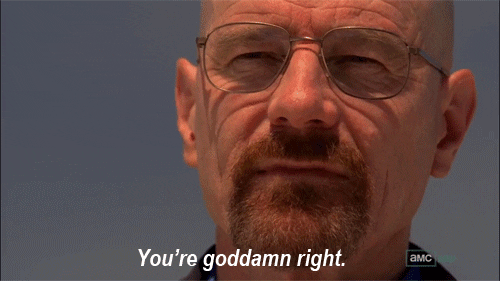 ng Bad (if it is the case, shame on you) or if you never watched it because you thought it wasn't that good, you really should watch it.  And I am pretty sure that you won't regret it !