Earnings of MAXS is up a seventh in the fiscal year 2019 compared to the prior year.
The net income increased by 14.75% to ₱724.23 million compared to ₱631.14 million in 2018 with the flattish growth in revenues at 5.25% to ₱14.40 billion from ₱13.68 billion a year earlier.
Business Model. Founded in 1945, Max's Restaurant is a proud and trusted Filipino heritage, known for its fried chicken, a recipe that has been passed on through generations. It also counts among its bestsellers classic local favorites such as Kare-Kare, Crispy Pata, Pansit Canton and Lumpiang Ubod. With over seven decades of operational success, Max's Restaurant carries a proven track record in delivering world-class Filipino food complemented by exceptional service standards. It operates across flexible formats featuring a diverse menu allowing it to cater to various consumer tastes and preferences. Through its lasting commitment to product quality, service and value-for-money proposition, Max's Restaurant have kept a strong position in the chained full-service restaurants category with a market share of 16.4% based on the 2017 Euromonitor country report.
Max's Restaurant started as a popular family-oriented destination that witnessed several momentous occasions in the lives of Filipinos. It was a preferred venue for wedding banquets, birthday parties, graduation events and family reunions. Recognizing the need for continuous innovation to ensure brand relevance, Max's Restaurant recently embarked on a major transformation campaign which involved redesigning store elements to customize the celebrated guest experience according to its location and customer profiles, particularly the younger segment who may still be unfamiliar with the brand, while staying true to its core. It also aims to tap the growing trend of solo-dining by offering individualized meals, prompting the launch of its Rice Bowls, a single-serve version of its famous main dish offerings. This initiative has enabled Max's Restaurant to go beyond the traditionally associated formal gatherings, to one that is more relaxed and friendly paving the way for more casual visits.
The Group's leading brands, Max's Restaurant, Pancake House, Yellow Cab Pizza and Krispy Kreme remain at the forefront of the business. The Company's operation of global brands Krispy Kreme and Jamba Juice in the Philippines also allowed these brands to gain a strong foothold in the Philippines and even benchmark themselves internationally in terms of product quality and development. Teriyaki Boy, Sizzlin' Steak and Dencio's continue to enjoy high-level awareness and still exhibit growth potential while specialty brands Maple and Kabisera have kept a stable following over the years. Altogether, the brands complement one another and command growing loyalty among their respective niches in the casual dining market.
The Risks. MAXS risks are as follows: 1.) Risks relating to competition; 2.) Risks relating to raw material sourcing; 3.) Risks relating to food quality; 4.) Risks relating to credit and paying capacity of franchisees; 5.) Risks relating to strategy for domestic and international growth; 6.) Risks relating to labor and 7.) Management risk. For complete narratives, please refer to their annual report published at PSE Website.
The Philippine Pension Funds. As of March 31, 2020, Government Service Insurance System (GSIS) owned 18,635,000 shares and Social Security System (SSS) owned 1,701,300 shares and comprises of 1.80% and 0.16% of MAXS's total outstanding shares respectively. I knew that before these pension funds infused with their member's money to any company, due diligence is religiously adopted and it always has strict provisions that the said company is bound to declare yearly dividends consistently. I believed it added confidence and investment value to its investors in the long run.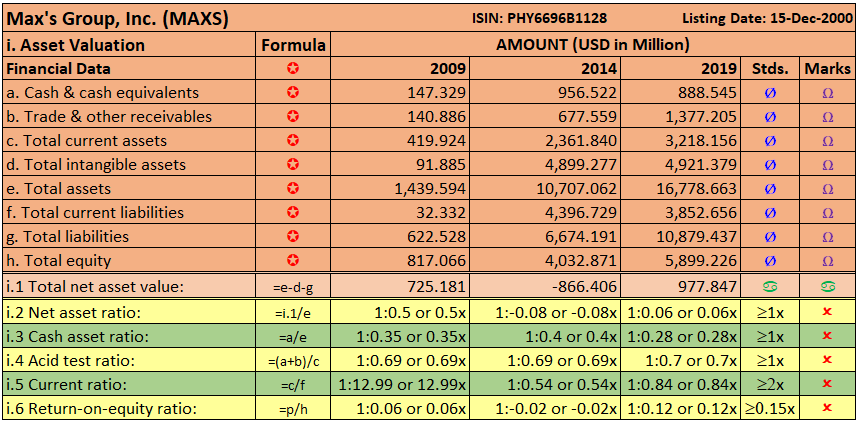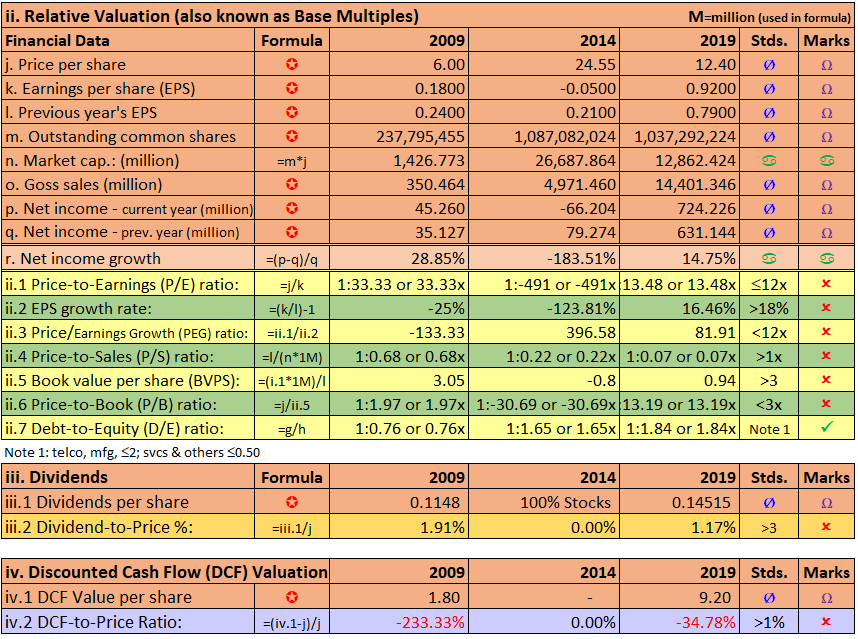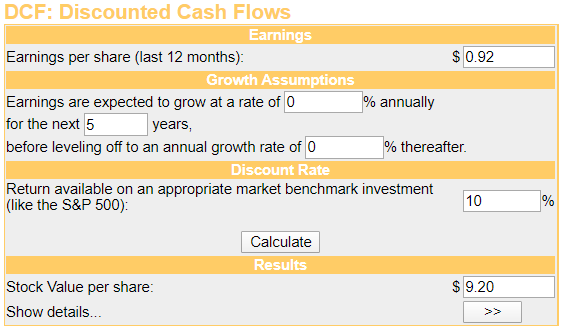 OBSERVATION: The global effect of COVID-19, which I always referred to as the WUHAN-400 plague, has a huge impact on MAXS. We are now in the recession cycle and most economists around the globe anticipated a greater than the 1929 great depression. If this prediction materialized, consumer spending may be on sluggish if not on hold that influences their ability to maintain its projected profit. Now, is it time to invest in MAXS? In my opinion, it is wise not to participate at this time due to the reasons above cited. Secondly, MAXS failed in my overall quantitative fundamental valuations. My DCF value per share is at 9.20 which is already 878.26% plunged from its all-time high price at 90.00 on 10-Jul-2014 at the height of MAXS buyout of Pancake House and may take time to recover at this level. On the other hand, if you are a short investor or day-trader (tsupetero), this ticker has the potential for a huge gain. At today's (28-Apr-2020) closed price at 6.52 is already a whopping 1,280.37% premium from its highest resistance.
DISCLAIMER: I'm not a Certified Financial Planner. Published herein is my personal opinion and should not be construed as a recommendation, an offer, or solicitation for the subscription, purchase or sale of any securities.
Related Topics:
TECH FY2019 Financial Results
World Stock Market Bloodbath On Oil Crash
What's The Impact Of A Negative Oil Price?
EEI FY2019 Financial Results
MRSGI FY2019 Financial Results
MPI FY2019 Financial Results
DMC FY2019 Financial Results
Will MPI Benefit The Government Stimulus Package?
Metro Pacific Investments Corp. (MPI) share price bottom?
What's next for MPI?
Please upvote and follow me on —-> https://steemit.com/@php-ph.
Please follow me on Facebook ——> Valencia, Bohol
Please follow me on Twitter ———> Valencia, Bohol
https://learning.cmu.edu/eportfolios/2520/Tutorial/Copy_Trading_Good_Compromise