This song is about a photographer called Robert Capa, who died during the Indochine War, while he was walking on a mine, straying to take a picture of the French Troops.
Here are the lyrics :

Indochina, Capa jumps Jeep, two feet creep up the road
Toe for toe, to record meat lumps and war,
They advance as does his chance – very yellow white flash.
A violent wrench grips mass, rips light, tears limbs like
rags,
Burst so high finally Capa lands,
Mine is a watery pit. Painless with immense distance
From medic from colleague, friend, enemy,
foe, him five yards from his leg, From you Taro.
Do not spray into eyes – I have sprayed you into my eyes.
3: 10 pm, Capa pends death, quivers, last rattles, last
chokes
All colours and cares glaze to grey, shrivelled and stricken
to dots,
Left hand grasps what the body grasps not – le photographe
est mort.
3.1415, alive no longer my amour, faded for home May of '54
Doors open like arms my love, Painless with a great
closeness
To Capa, to Capa Capa dark after nothing,
re-united with his leg and with you, Taro.
Do not spray into eyes – I have sprayed you into my eyes.
Hey Taro!
ROBERT CAPA

Endre Ernö Friedmann, more commonly known as Robert Capa, is a photographer and a Hungarian war correspondent, naturalized American. He was born on 22 octobre 1913 in Budapest, and died on 25 May 1954 during the Indochine war. He is also one the fonders of the photographic cooperative Magnum Photos.
He grew up in a Jewish-tailors family in Budapest. At the age of 17, he started studies in journalism, at the German Political College but, because of the arrival of the Nazis, he relocated to Paris, where he decided to change his name Endre Ernö Friedmann as Robert Capa.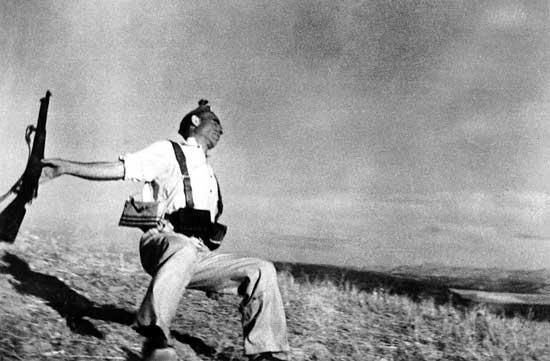 » The Failling Soldier « , Robert Capa, 5 September 1936, Cerro Muriano
One year later, he encountered Henri Cartier-Bresson, David Seymour (and André Kertész), with whom he shared his passion for photography and with whom he founded Magnum Photos in 1947. He also met Gerda Taro, a German Jewish refugee, who later become his partner and a photographer. They travelled all around the world to take war pictures until Gerda was killed during the civil war in Spain, in 1937.
Capa, deeply chocked, pursued alone his job, and retraced the Sino-Japenese conflict, covered the North African front in 1942 and the landing in Sicily. Then, he immortalized the Normandy Invasion on 6 June 1944.
Then, he moved to Hollywood with Ingrid Bergman, his new lover, where he started fashion photographs and still photographs for Alfred Hitchcock.
In 1954, the magasine entitled « Life » required a photographer to assist to the Indochine War. Capa volunteered, unaware of the turn of events.

» American Soldier Landing On Omaha Beach « , Robert Capa, 6 June 1944, Normandy
ALT-J
alt-J is an English indie rock band founded in 2007 in Leeds. Formed of four members, Joe Newman, guitarist and vocalist ; Gwill Sainsbury, also guitarist and bass player ; Gus-Unger Hamilton, keyboardist and vocalist, and the drummer Thom Green, their songs are a mixture of folk, hip-hop and vocal harmonies interludes. They have got two albums behind them : the first, called An Awesome Wave (2012) that features « Taro » and the second entitled This Is All Yours (2014).
I think that it's really a beautiful tribute to Robert Capa, that I appreciate as much as the band. The song, the voices are shooting and carrying and this approach creates a contrast with the sorry story. The song tells the death of Capa poetically, mitigating the violence around it. Friedmann join spiritually the love of his life, Gerda Taro. The music video is also beautiful, the images are intense and poignant.
Robert Capa is one of my favourite photographer, because of his touching end but also thanks to his amazing career. He knew that war photographer was a job at risk, but he accepted every requests and he succeeded famously. His pictures were taken in the heat of the moment, during a very tense context. That's how he lost his life : taking a photograph. Through his photographs of war, Capa was interested in the human's relations with the death and the ephemeral life. Thereby, his death is like the consecration of his work.
«  IF YOUR PHOTOGRAPHS AREN'T GOOD ENOUGH, YOU'RE NOT CLOSE ENOUGH »