Poster of The Wizard of Oz – 1939, by Victor Fleming.
 The book The Wonderful Wizard of Oz was written in 1900 by L. Frank Baum.
Fiche de préparation au visionnage du film = wizard_of_oz2
Over the Rainbow, by Judy Garland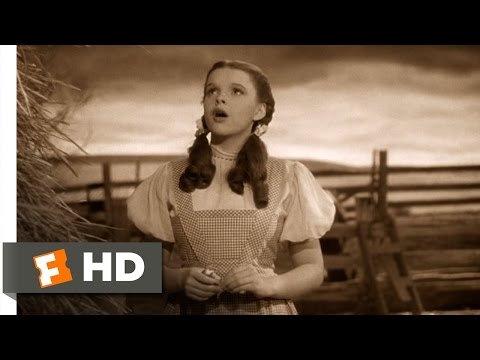 Lyrics by E.Y. Harburg, music by H. Harlen
Somewhere over the rainbow
Way up high,
There's a land that I heard of
Once in a lullaby.
Somewhere over the rainbow
Skies are blue,
And the dreams that you dare to dream
Really do come true.
Someday I'll wish upon a star
And wake up where the clouds are far
Behind me.
Where troubles melt like lemon drops
Away above the chimney tops
That's where you'll find me.
Somewhere over the rainbow
Bluebirds fly.
Birds fly over the rainbow.
Why then, oh why can't I?
If happy little bluebirds fly
Beyond the rainbow
Why, oh why can't I?
Et pour les fans de piano, la version de Keith Jarrett
Et pour les fans de guitare, la version d'Eric Clapton
Les élèves de 6ème ont créé de nombreux quiz à propos du film :
Quelques quiz de 2016 en pdf