Who will choose the next US president –
the American people, or Facebook?
The social media titans are more powerful than politicians. But it doesn't have to be this way.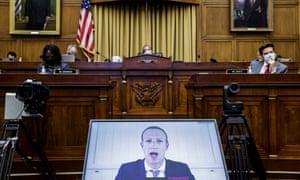 Facebook's Mark Zuckerberg appears by video during a US house judiciary subcommittee hearing, 'Online Platforms and Market Power' in Washington, 29 July. Photograph: Rex/Shutterstock

This week, in a hearing on Capitol Hill, you could gaze upon the men with the power to determine November's presidential election and the future of American democracy – but the men in question were not politicians. Rather they were the four tech titans who appeared by Zoom before a congressional committee. Even via video link, the power radiated from them: the heads of Facebook, Google, Amazon and Apple loomed from the monitors as veritable masters of the universe, their elected questioners mere earthlings.
That hardly exaggerates their might. Between them, and with their users numbered in the billions, Facebook and Google determine much of what the human race sees, reads and knows. Mark Zuckerberg's writ runs across the planet, no single government is able to constrain him: he is an emperor of knowledge, a minister of information for the entire world. A mere tweak of an algorithm by Facebook can decide whether lies, hate and conspiracy theories spread or shrivel.
you may also be interested in THAT article