Could it be farewell to the traditional back garden? Architects shortlisted by the government to design prototype housing in England have called time on fenced-off sanctuaries and want to replace them with communal gardens to boost social integration.
Ministers have shortlisted six teams of designers to be teamed with volume housebuilders in an attempt to make the next generation of housing estates greener, healthier, better for elderly people and quicker to build. Several of the winning designs in the government's Home of 2030 contest show communal spaces running right up to front doors, shared vegetable gardens and outdoor community dining areas.
One of the designs suggests four homes built around a courtyard garden that the residents can also book via an app for private use. Otherwise it would be shared. The proposals run contrary to the bulk of new housing that is built with private gardens, however small, partly because of planning rules that mean homes have to be spread out for privacy.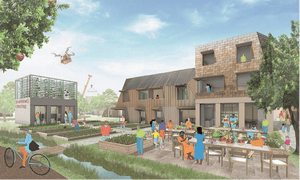 Under the schemes, which have been awarded £40,000 development grants, homes could be self-built, include straw walls or green roofs, and some of the prototype estates are designed as car-free zones.