SCOTLAND
Facts
Status:Semi-autonomous part of the United Kingdom
Population:5 million (2001 census)
Capital:Edinburgh
Area:78,772 km² (30,414 sq miles)
Languages: English, Gaelic
Major religion:Christianity
Monetary unit:1 pound sterling = 100 pence
Main exports:Food/drink, chemicals/petroleum products
Scotland is a part of the United Kingdom. Since 1999, when legislative powers were devolved to a reconstituted Scottish Parliament, it has enjoyed a high degree of independence.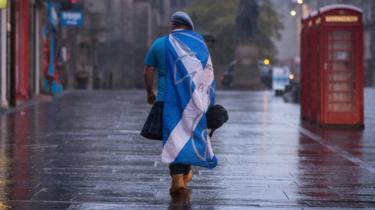 As Scotland votes « No » Alex Salmond calls for the pledge of more powers to be carried out, and David Cameron says the commitments will be honoured.
Devolution and national identity
Pressure for increased autonomy during the 1970s and 1990s led to the passing of the Scotland Act in 1999 by the Labour government of Tony Blair, with Scottish Secretary Donald Dewar as the architect of the legislation.
Following a referendum in 1997, a Scottish Parliament elected by a system of proportional representation was re-established in Edinburgh, with primary lawmaking and limited tax-raising powers.
The Scottish National Party (SNP), which has a majority in the Scottish Parliament, advocates a referendum on full independence in 2014. This brough it into conflict with the British government until agreement was reached on the wording and terms of the referendum at talks in 2012.
Scots are proud of their national identity and despite a relatively small population of around five million, a very large diaspora exists not only in England but also worldwide, especially in North America, Australia and New Zealand.
The relatively high degree of Scottish autonomy is reflected in other areas: Scotland competes as a separate team in international football, rugby and other sports.