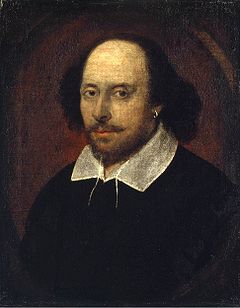 William Shakespeare was born in 1564 in Stratford-upon-Avon. He was an English poet and playwright.
At the age of I8 (eighteen), he married a local girl, Ann Hathaway. They had three children together : a son and two daughters.
William moved to London where he worked for many years, – first as an actor. He belonged to a company, the King's men. Then he began to write plays. His plays were comedies, histories or tragedies. They were very successful and Londoners loved them. He wrote more than 30 plays.
He also wrote poems, especially sonnets. He wrote more than 150 (one hundred and fifty) poems.
He retired to Stratford in 1613 where he died three years later.
He is considered as the most famous dramatist in the English language.
His most famous plays include : Hamlet, A Midsummer Night's Dream, King Lear, Julius Caesar
Retour page Civilisation
Retour page 5ème ACT 2
Retour Accueil